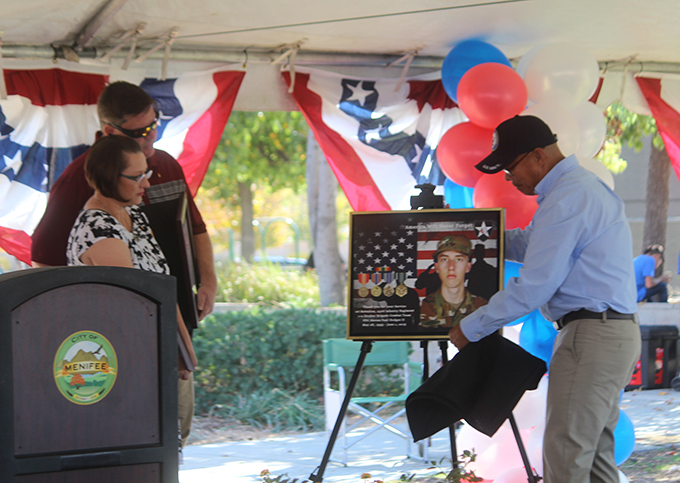 First Honoring USA Hero Presented
On November 11, 2019 Veterans Day Celebration at Menifee Veterans Memorial Park, Menifee CA.
Honoring USA Heroes founder, Ed Presnillo presented Gold Star Mom Jessica Geller-Hamilton a Memorial Picture Speaker of PFC Steven Paul Hodges II, a Menifee resident who died last June while serving in the Army in Nogales, Arizona.
Jessica wanted her son to be remembered, so I told her: "Jessica, place this picture of Steven in the room you live life, where your friends and family gather. Play his favorite songs of his time. And as the music comes to life through his image, they will ask, where is the song coming from? Smile and say, "Steven is playing it for us" and show them the picture of Steven. As they read his BIO, ask you questions about his life while they listen to his songs, they will become emotionally connected to your son, and each time they hear his songs, his image will be recalled. The power of music and his memory will change those Tears of Sadness to Tears of Joy! Steven will always be Remembered and Never to be Forgotten".